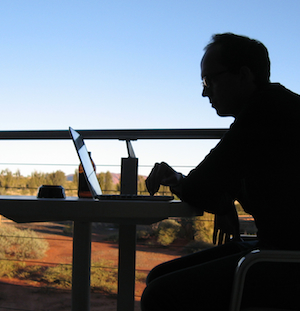 Alex Chilvers (born 1985) is an Australian composer based in Sydney.
Having completed high school in 2002, Chilvers attended Macquarie University where he studied mathematics and computer programming. Graduating with Honours in Information Technology, he went on to pursue research interests in music and psychology - working as a programmer within the Music, Sound and Performance Lab.
In 2009, Chilvers began studying composition privately with Michael Smetanin. Following a successful application, he commenced full-time study at the Sydney Conservatorium of Music in 2010. That same year, he became actively involved in music journalism, working with arts magazine Limelight in which he has had numerous articles published.
During his time at the Conservatorium, Chilvers has studied with Matthew Hindson, Paul Stanhope, Trevor Pearce, Anne Boyd and Smetanin, among others. He was also a member of the Conservatorium Chamber Choir that toured Europe in 2012. In 2013, he is studying for Honours in Composition under the tutelage of Michael Smetanin (composition portfolio) and Trevor Pearce (research thesis).
Alex Chilvers has composed works for a wide variety of ensembles and solo instruments, including strings, wind, percussion and voice. His works have been performed at various local venues, including the iconic Sydney Opera House, and as far away as New York.